On a weekly basis, the CAE compiles news of interest to the organization and its members, and makes it publicly available on our website. The CAE works to highlight emerging issues in which engineering has a role as well as promote recognition of engineering excellence and innovation.
Remembrance Day
On Remembrance Day, we thank the men and women who served and currently serve in the Canadian Forces, regular forces and reserves, which includes many of our Fellows. In recognition , Br. General Jennie Carignan, FCAE, and Mr. Arthur Dubé, a distinguished  veteran from WWII and the Korean War, performed the ceremonial face-off before the 10 November Canadiens and Golden Knights game, during the tribute to the Canadian Armed Forces on the eve of Remembrance Day.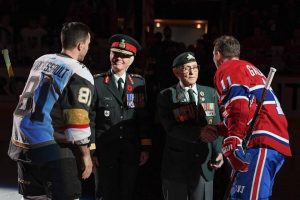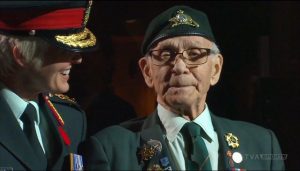 Engineers Canada's 30 by 30 Initiative
The Canadian Academy of Engineering is pleased to be part of Engineers Canada's 30 by 30 initiative, being represented by Champion Jeannette Montufar, FCAE.
For more information, click here.
38th Dineen Memorial Lecture
The 38th Dineen Memorial Lecture will be delivered by Jeanette Southwood, FCAE. The Dineen Memorial Lectures began in 1980 and honours former engineering professor and UNB president James O. Dineen.
For more information, click here.
---
Have a story you would like to have featured?  Please contact us at cae-admin@cae-acg.ca.