On a weekly basis, the CAE compiles news of interest to the organization and its members, and makes it publicly available on our website. The CAE works to highlight emerging issues in which engineering has a role as well as promote recognition of engineering excellence and innovation.
Interview with Fellow and Tory health critic Gladu
Marilyn Gladu, FCAE, describes her career transition from Chemical Engineering to MP.
Canadian Roadmap for Resilient Buildings
Read the Communiqué from our 21-22 March Symposium here.
Canadian Academy of Health Sciences Executive Director Search
Our colleagues at the Canadian Academy of Health Sciences are now accepting applications for the position of Executive Director.
This experienced senior manager reports to the CAHS Board and is responsible for all operations and business functions of the CAHS working closely with secretariat services provided by the Council of Canadian Academies. CAHS Executive Director Position Description. Applications should include a CV and a cover letter that clearly articulates relevant experience addressed to Dr. Linda Rabeneck, President, at Linda.Rabeneck@cancercare.on.ca The application deadline is May 15, 2019.
See the full description here.
2019 Killam Engineering Award
Congratulations Keith Hipel, FCAE, on winning the 2019 Killam Engineering Award.
2019 APEGA Summit Centennial Leadership Award
The 2019 APEGA Summit Centennial Leadership Award winner is University of Calgary Professor, Nigel Shrive, FCAE. This award is presented to an APEGA member who has attained the highest distinction. Dr. Shrive is a pioneer in bio-engineering. His work has changed clinical practices and the knee joint he invented as a graduate student at Oxford has helped thousands of people around the world.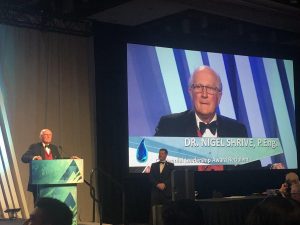 ---
Have a story you would like to have featured?  Please contact us at cae-admin@cae-acg.ca.