On a weekly basis, the CAE compiles news of interest to the organization and its members, and makes it publicly available on our website. The CAE works to highlight emerging issues in which engineering has a role as well as promote recognition of engineering excellence and innovation.
CAE Scholarship Presentation Ceremonies
Congratulations to University of Toronto engineering graduate Anston Emmanuel, winner of the 2018 Canadian Academy of Engineering Belfry scholarship (with Peter Mascher, CAE Board member).
Prior to the ceremony, some 20 Toronto area Fellows received a briefing on the recent Fellows' survey and provided useful feedback.
At a separate ceremony, Professor Farid Najm, FCAE, chair of ECE at Univerity of Toronto presented Jane Illarionova, a 3rd year UofT engineering student  with the 2018 CAE Bruce Aubin SAE Aerospace Design Award .
Provost sets down vision for changing campus
Best wishes to Andy Hrymak, FCAE, in this new position.
For more information, click here.
Meeting with the Chinese Academy of Sciences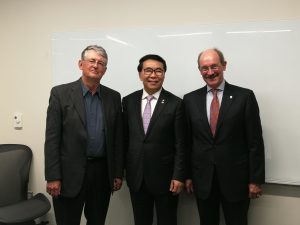 Kevin Goheen (l) and CAE Board Member and Chair of our International Committee Peter Mascher (r) recently met with Dr. Chunli Bai, President of the Chinese Academy of Sciences, to discuss direct collaboration on research and assessment projects between the two Academies.
Engineering Dimensions lists CAE Inductees and Scholarship winners
Check out page 40-41 of PEO's Sept/Oct issue of Engineering Dimensions, to see mentions of Canadian Academy of Engineering's newest Fellowship inductees and latest scholarship winners.
You can read more here.
Condolences
We are very sad to report the passing of Dr. David Coll (b.1933-d.2018), who was until recently, a Fellow of the Canadian Academy of Engineering. He was a very valued colleague and a talented teacher of generations of engineering students at Carleton University.
To read more about his life of accomplishments, click here.
---
Have a story you would like to have featured?  Please contact us at cae-admin@cae-acg.ca.
Follow the CAE on Facebook, Twitter and LinkedIn.